[ February 20-Kabiki Day ] "IZUMO no Okuni" + Gion by Night
2020.2.17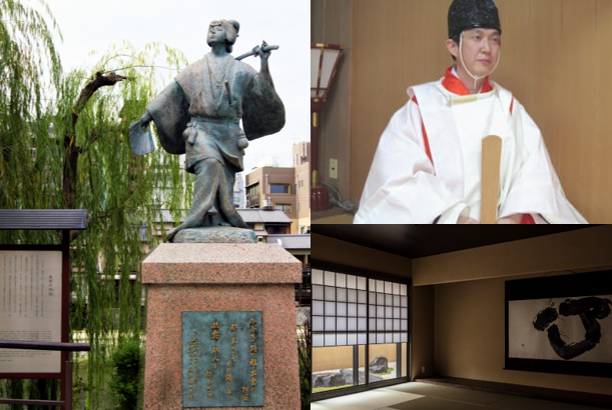 Talk Event: "IZUMO no Okuni," the First Kabuki Performer in the Medieval Period
Walking Event: Gion by Night
February 20th is the "Kabuki Day." ENSO ANGO will hold an interesting event of "IZUMO no Okuni," who is a female performer and also the originator of Kabuki theater in the medieval period.
* Reservation required. English interpreter is available.
* This event is open for both hotel guests and external participants.
Takahiro Nakajima (the head of the Izumo Taisha Shrine Murasakino –Kyokai) will give a talk about "IZUMO no Okuni" and the Izumo Taisha Shrine. After a talk, participants will take a walking tour in the Gion area for discovering the history of the Kabuki performances, including "IZUMO no Okuni" statue and Kyoto Minami-za Theater.
"IZUMO no Okuni" was born as a daughter of a blacksmith at the Izumo Taisha Shrine in 1572 and became a 'miko,' a supplementary priestess in her early years. "IZUMO no Okuni" started her dance performance when she was sent to Kyoto for secret dance and act for donations. With this opportunity, "IZUMO no Okuni" became known for her performance of dance and act. Additionally, "IZUMO no Okuni" is also believed as a contributor of the Japanese theater in general and modern musical theater. The Azuchi-Momoyama period during the Age of Warring States is one of the significant periods of the medieval Japan's history. The originator of Kabuki performer (also a female performer), "IZUMO no Okuni," attracted people with her remarkable talents for dancing and acting in the excitable era. And yet, her brilliance still allures people's minds even now. Please absorb yourself into the medieval time of the Japanese history to give more than a passing thought to "IZUMO no Okuni" and her great performance by attending ENSO ANGO's notable event.
Notice For hotel guests: please wear Kimono dresses before an event.
* The Kimono service is only for hotel guests.
  For external participants, the Kimono service is not provided.
  Please follow a dress code policy for the event.
Date and Time:  Thursday, February 20, 2020
Venue:            [ Kimono Dressing-Up ]  TOMINOKOJI-DORI SALON 
                      [ Talk ] TATAMI SALON at FUYA II
Schdule:          ・ Kimono Dressing-Up 14:30-16:00
                       ・ Talk 16:00-17:00
                       ・ Gion by Night (Walking Tour) 17:15-19:30
Fee:                   For Hotel Guests — 4,000 JP Yen (with Kimono Dress-Up service)
                          For External Participants — 4,000 JP Yen (without Kimono Dress-Up service)
Dress Code:       Kimono Dress or Kimono Items must be worn
Inequiry:             075-585-5884 (Reception Hours/9:00-18:00)